Acoustic Solution
Overview
The speech, processing, and Amplifiler work of sound sources for various events (performances, lectures, seminars, meetings) is used to convey speech, performers ' voice, and sound to the listeners with clear sound quality. In addition, the purpose of the program is to understand the actual size of the video required for the event and to provide accurate and clear images to viewers by establishing a non-blind video presentation system.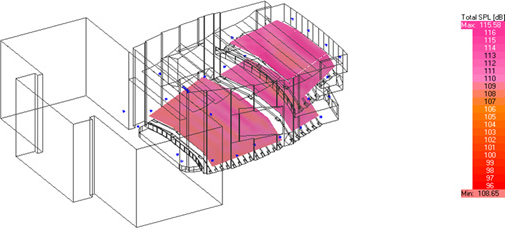 Solution Deployment Steps
- Determine the appropriate budget scope by identifying the size and operator's intentions through a walkdown.
- Select and design optimal products based on interior design, building size and budget range.
- Complete the acoustic design and run simulation to review the problem and validity of the design.
- Prepare a plan according to the project site and conduct a construction inspection accordingly.
- Conduct various checks (tuning and report completion books) on completion of system installation.
- Ensure completion and transfer of training by the operator.
GST Solution Provides
- Proposal of a multI-dimensional plan
- Budget documents and construction estimates according to selected proposals
- Block diagramsrack invitationfloor plan / detailed plan
- Construction related bills, quality certificates and reports
- Pre-predictable simulation and report before construction
- Site visit for analysis of installations of the same size
- Certificate, warranty, and completion documents for each product solution after completion of construction
GST Provide Maintenance Service
- Free maintenance service for two years (24 months)
- Emergency support based on request for emergency assistance (within 24 hours of Seoul and its vicinity)
- After responding to equipment at sites that require continuous operation, the A/S service
- Systematic and reasonable solution management service based on the payment maintenance contract